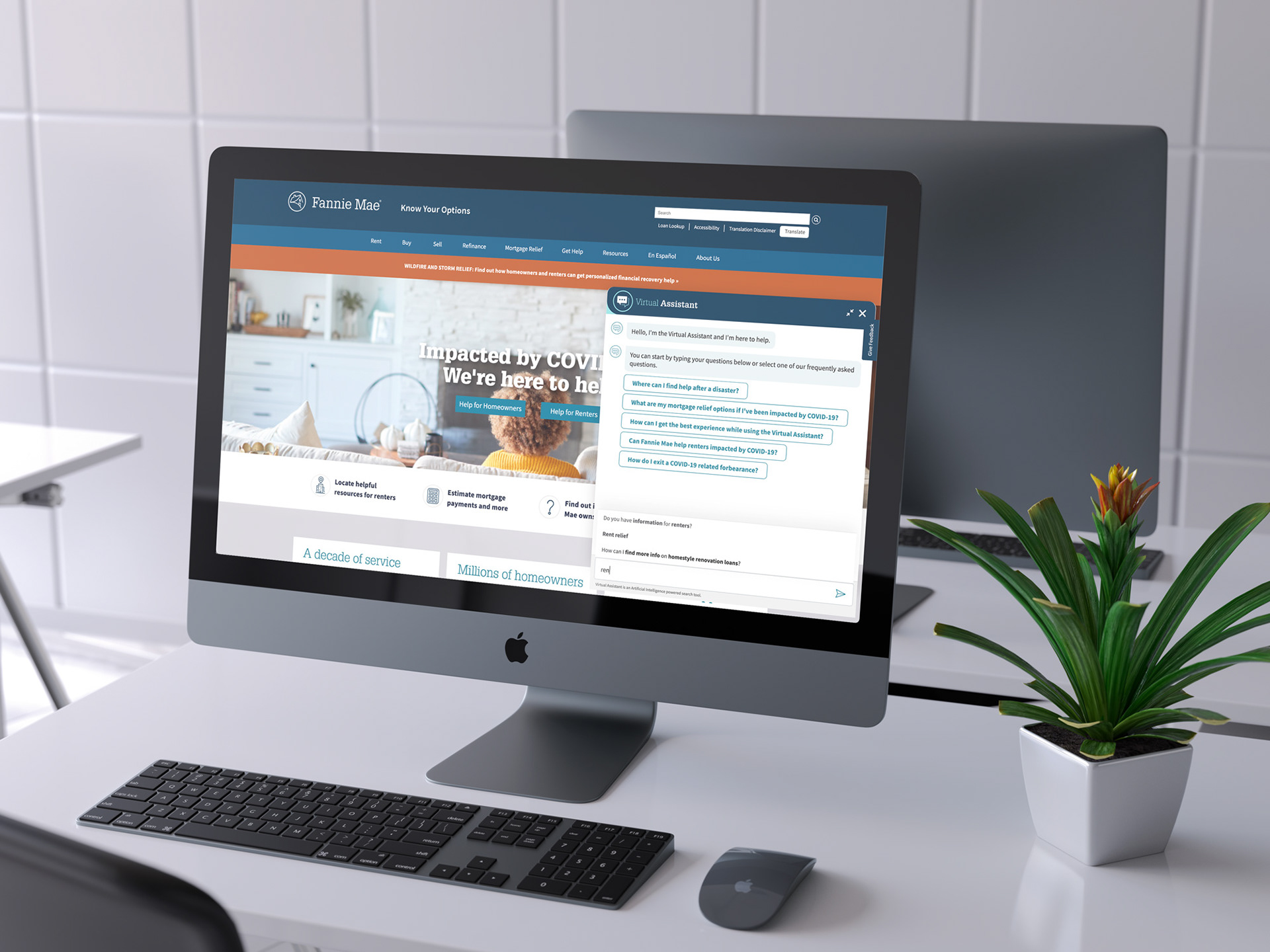 I. BACKGROUND  |  
PROBLEM OVERVIEW
COVID-19 has provided a big hit on the United Stated economy both physically and psychologically—leaving some without jobs and income to support their living expenses. This caused a lot of panic in understanding the rights and options present for homeowners and renters within the US.
Fannie Mae being one of the leading mortgage loan purchasers, wanted to be at the forefront in helping those affected by COVID-19, along with other issues that may arise, to ensure both homeowners and renters had all of the answer and resources needed to get the help needed. This resulted in the current Fannie Mae "Know Your Options" (KYO) website. While the goal was to get the content available to the general public, the team didn't take the time to ensure some core elements like information architecture—making it very difficult for users to find the information they needed. This created some frustrating feedback, more calls to live agents, and missed opportunities to help the site visitors. We had to figure out something to help guide our users to the right information, faster and easier.
Through several interviews of website visitors and internal proxies, we found out that an overhaul of the website may not be enough—thus, the Fannie Mae "Virtual Assistant" was born. We aimed to create a chatbot that used Artificial Intelligence, with natural language, to help guide users down various flows resulting in providing the resources needed to make informed decisions during this trying time. Because the majority of the information was already on the KYO website, we were able to leverage the current content to help streamline the creation of the chatbot. We also needed to make this tool mobile-friendly to meet all users no matter the platform they are using.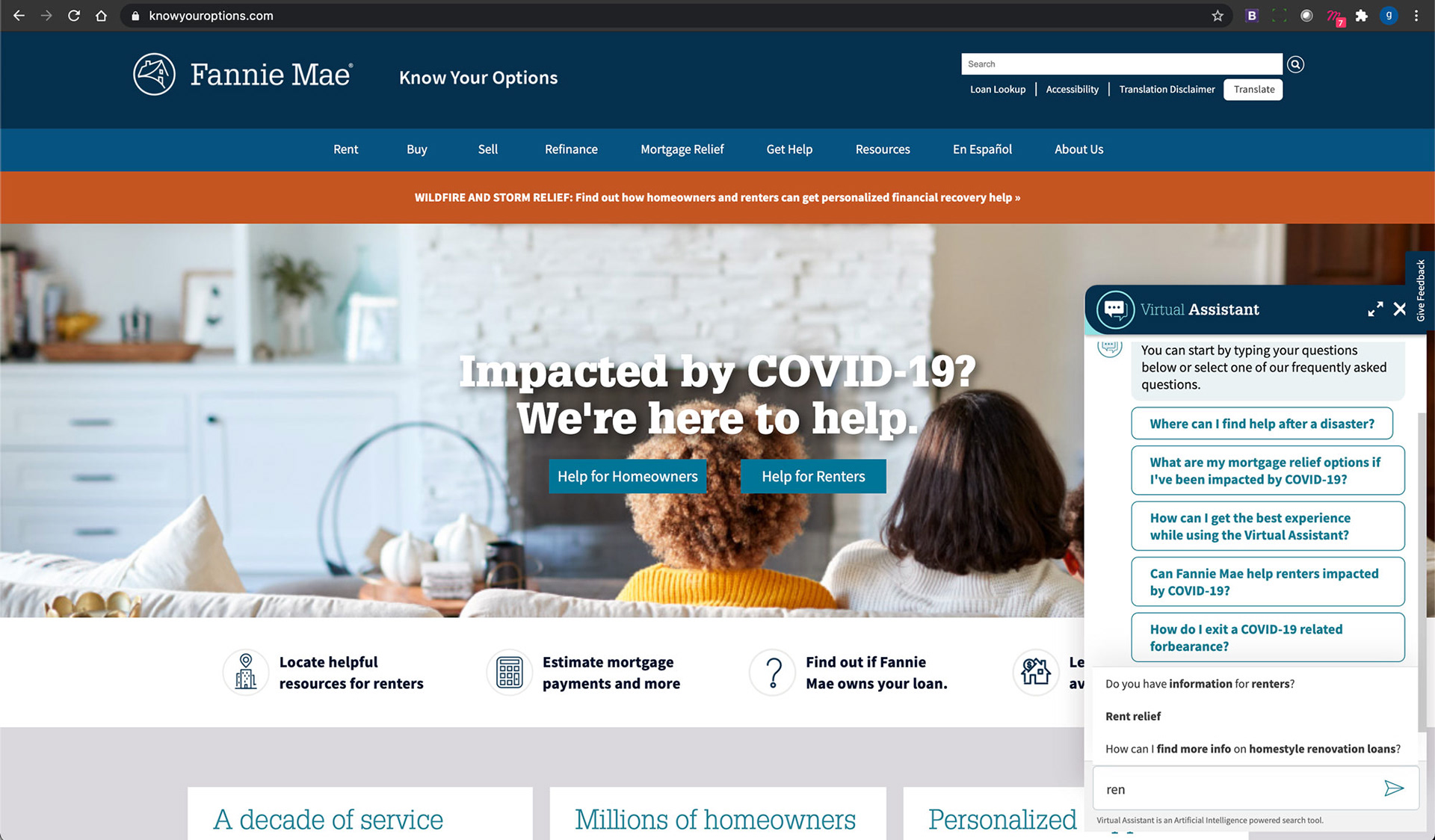 II. TEAM  |  
WHO CONTRIBUTED TO THE PROJECT?
1. Product Owner
2. Product Manager
3. Lead UI/UX Designer
4. Researcher
5. Marketing
Subject Matter Experts (SMEs)

6. Single Family (Homeowners)
7. Multifamily (Renters)
8. Call Center (Live Agent)
Lead the UX/UI of the project, and act as Creative Director on the visual design and language direction.
1. Aligned with product to help create the vision and strategy of the project
2. Partnered with different SMEs to understand each area of the personas experience
3. Partnered with research to conduct user interviews and usability tests
4. Create high-level user journey exercises with product and SMEs
5. Partner with Marketing on tone-of-voice language and ensuring the visual design adheres to brand standards
6. Partner with development and API vendor of the chatbot tool
7. Responsible for overall user experience throughout each guided flow

III. PROCESS  |  
DRI
VING TOWARD
A SOLUTION
Because our initial interviews with website users and internal proxies helped conclude the direction of a chatbot (speed to information and guided access), I was ready to work with the product owner to understand how we would make this work.
A. Understanding the user flows
Since the content was going to be leveraged from the current website, I wanted to understand from the SMEs what the high-level, beginning-to-end goal, for each of our main personas were (Homeowners and Renters).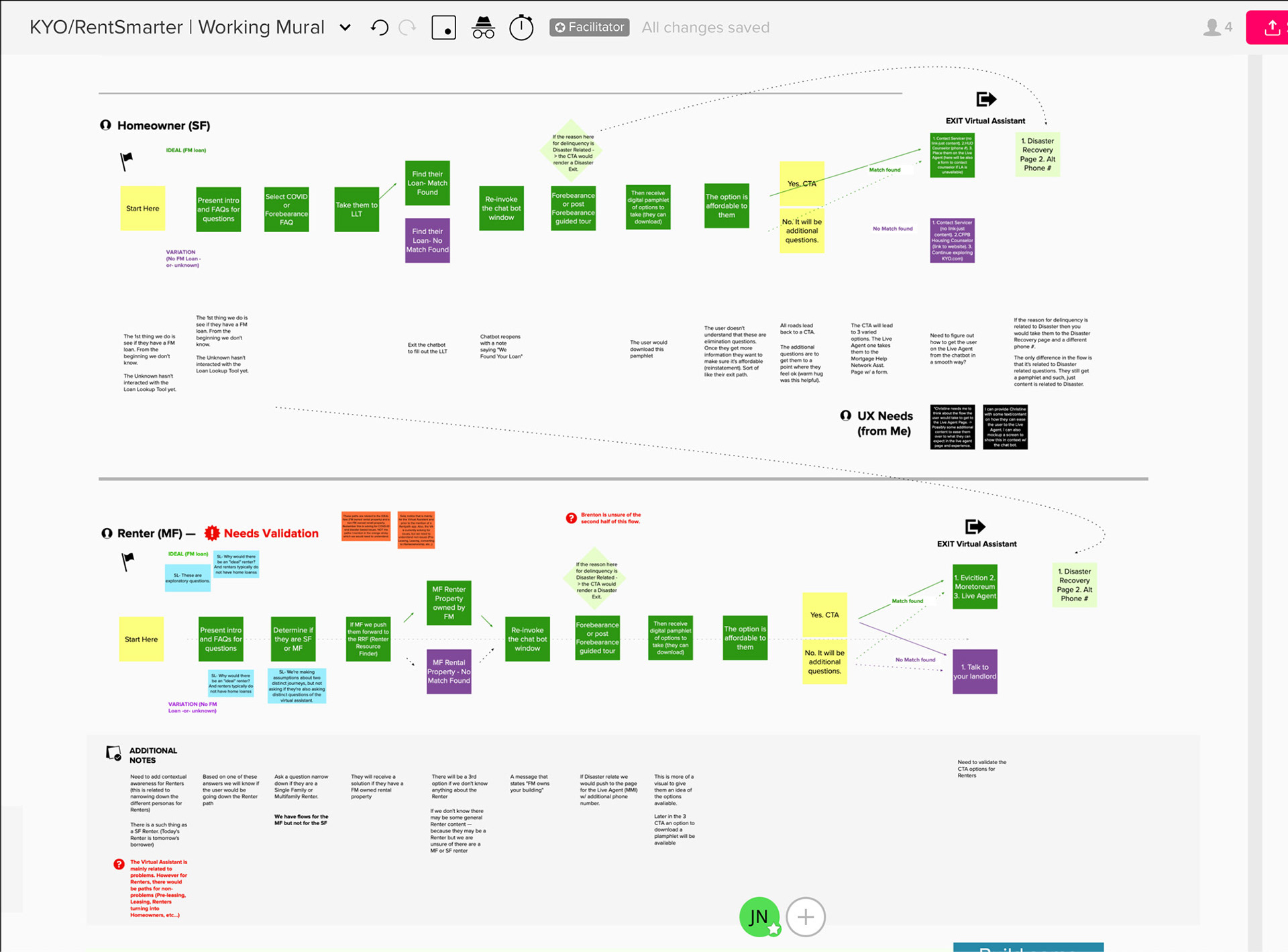 I took some time to sit down with key stakeholders from each side of the enterprise (Single Family, Multifamily, and product) to help craft out a general flow the user would take and what the alternate routes could be. This would help me in crafting out the language flow of the chatbot, as well as, define what the end goals were for each type of user and their exit points. The picture became clear that we weren't meant to answer everything within the chatbot, but to point the user in the right direction for them to be more informed in what they would need to do to solve their current issue.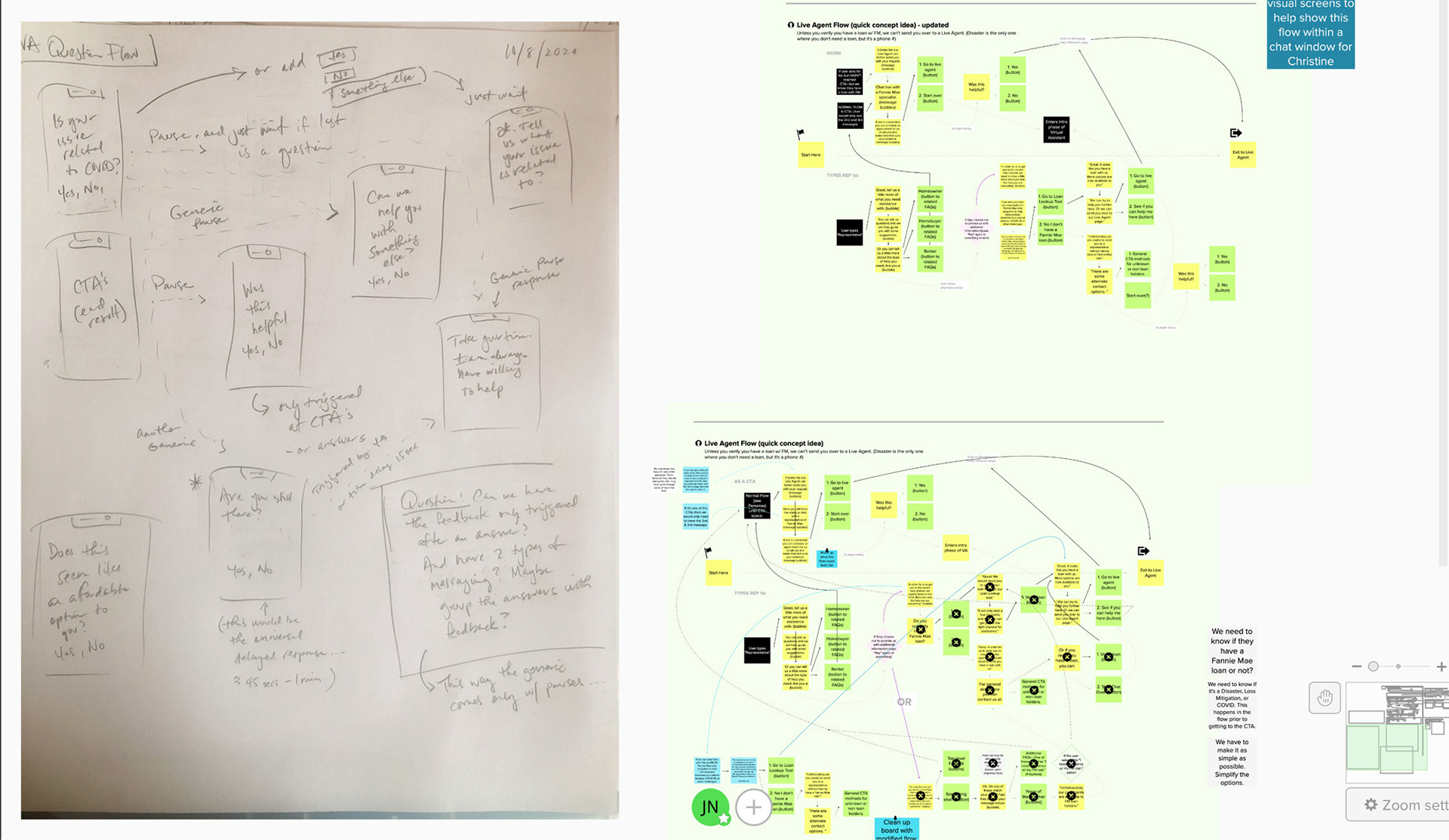 Building the conversation
In order to make the experience more natural, we wanted to build our scenarios based on prescriptive QA. We took cues from previous tools used throughout the business—making the chatbot adaptable with presenting suggestive questions based on keywords that anchor users to the proper flows. Working with HUD counselors and content SMEs we were able to narrow the goals for the user based on specific conditions, that would guide them to the proper set of CTAs at the end of their journey.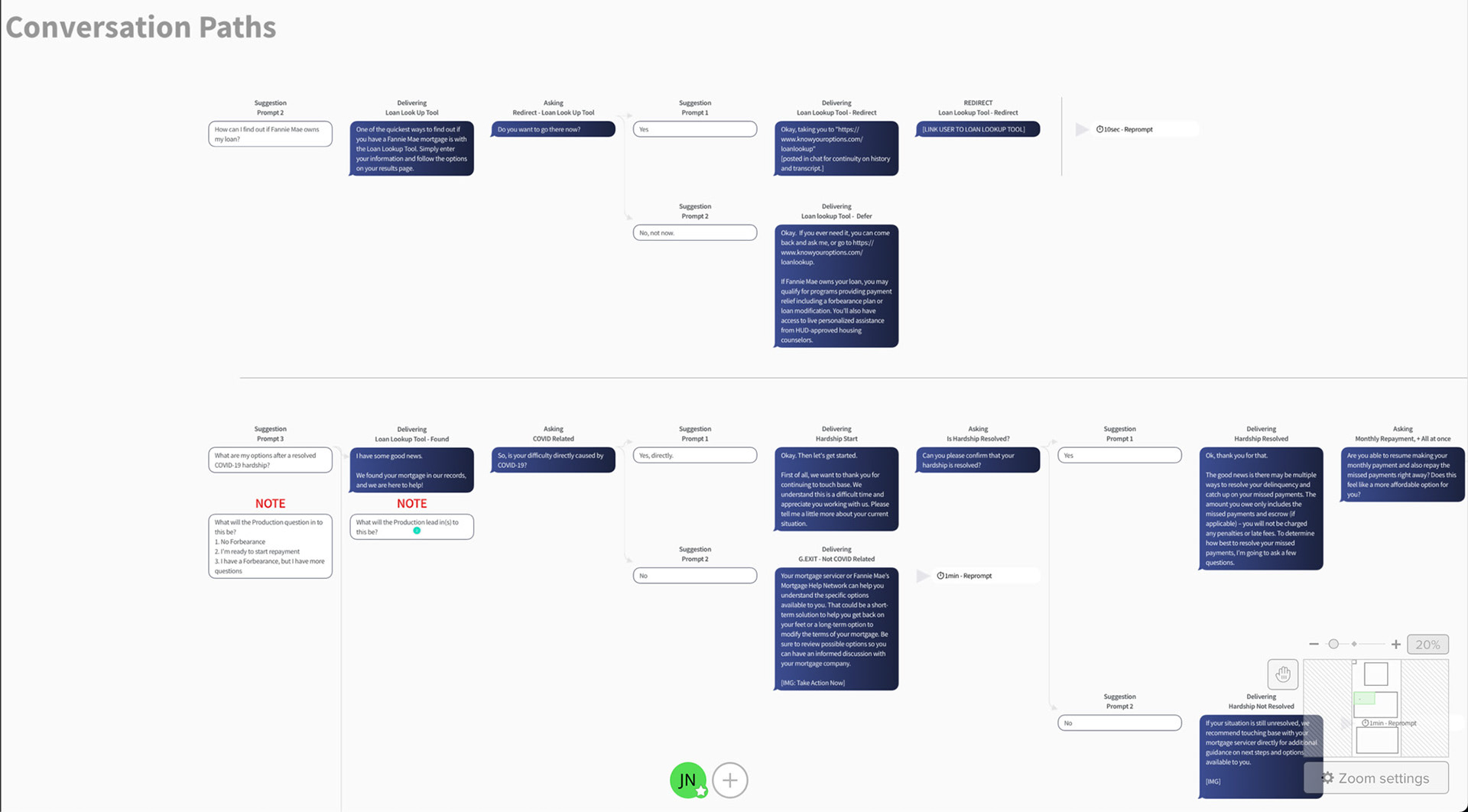 With an idea of what the tool would be, a chatbot, I was able to begin developing low level sketches of what the aesthetic and interaction model could be.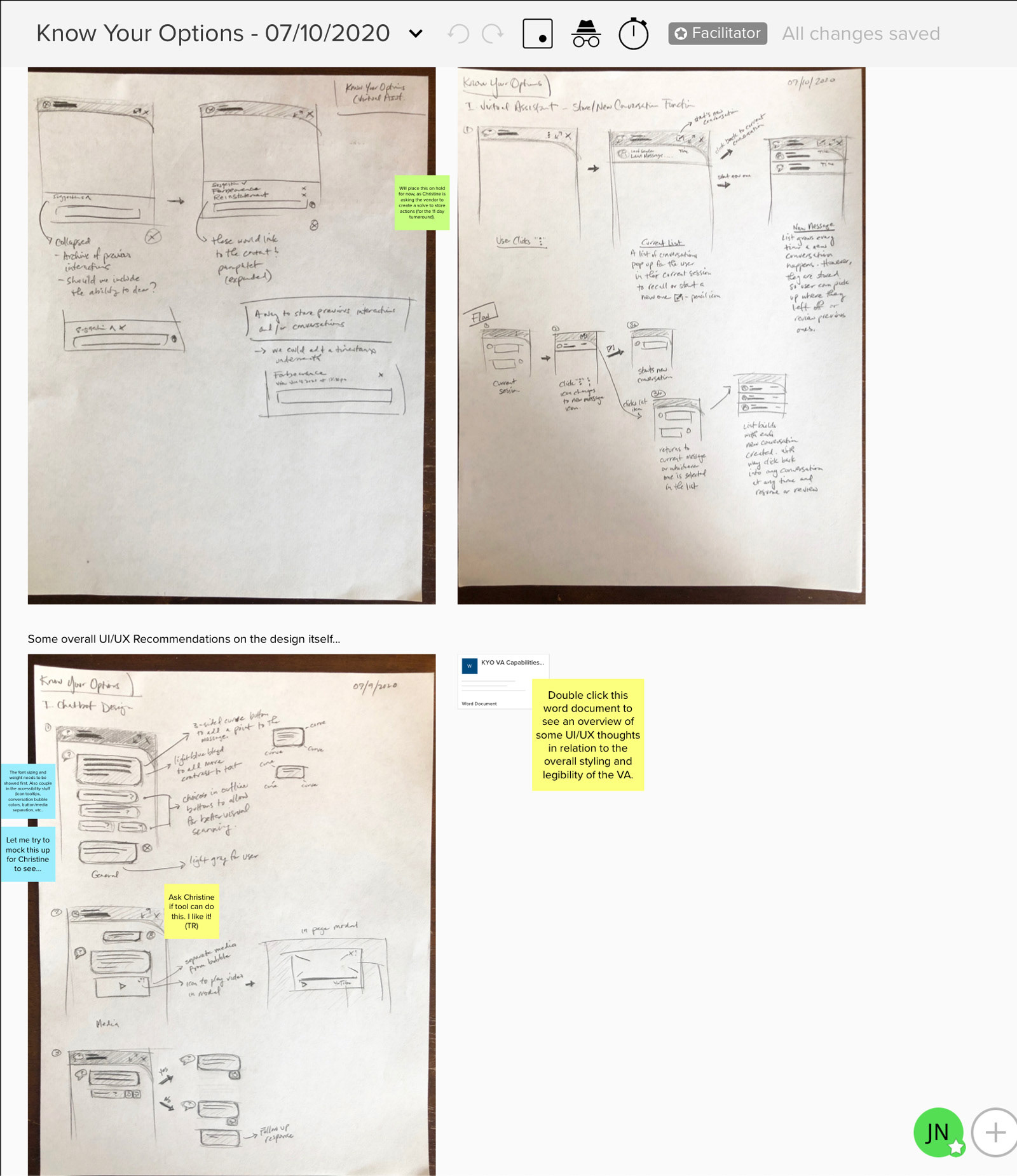 Because of the timeframe (very short as the pandemic wasn't slowing down), we wanted to begin pushing toward testing some of the designs as soon as possible. I aimed to produce a few mid-fi screens within Sketch, while using Invision to quickly prototype scenarios.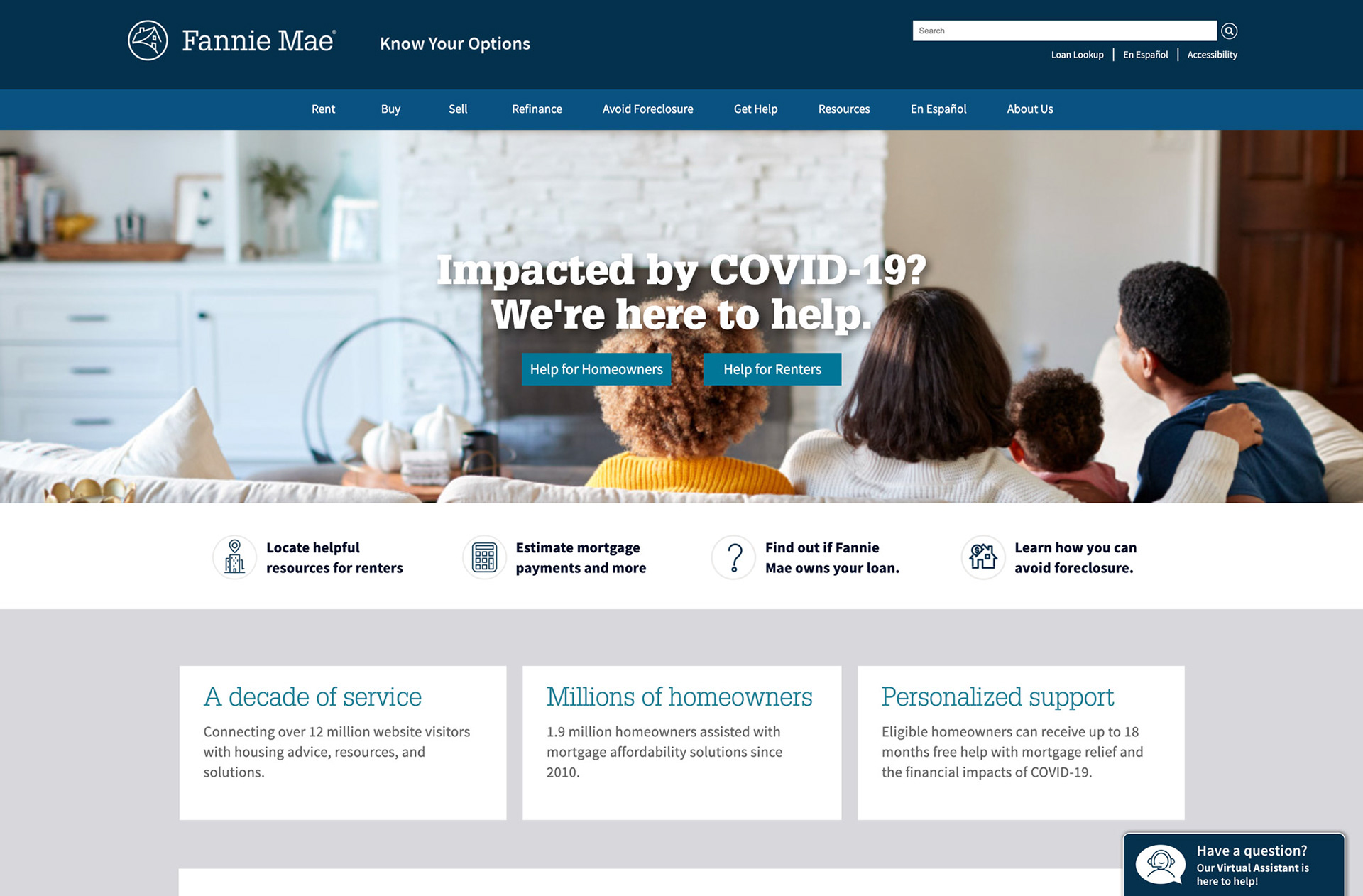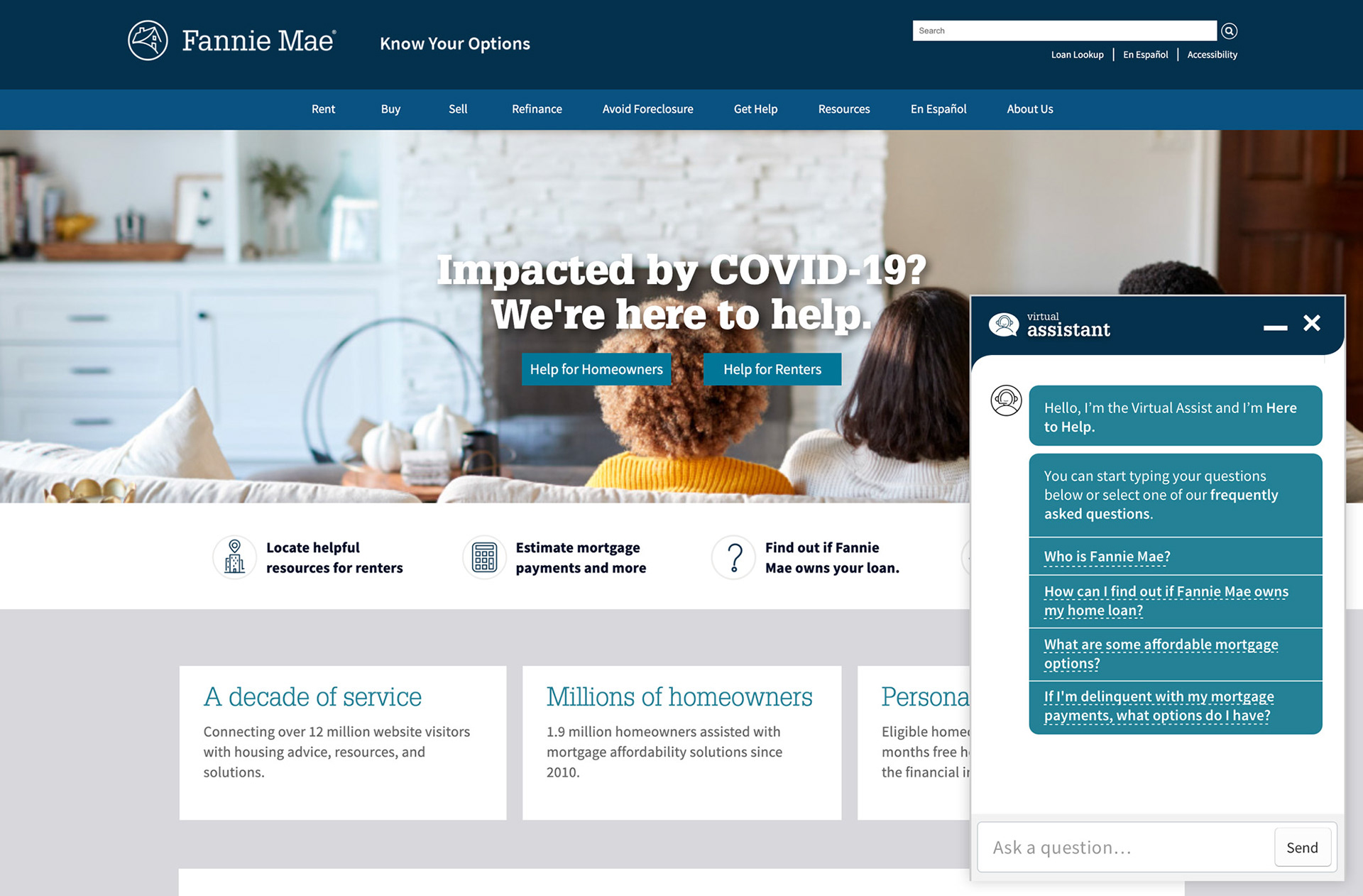 8 Consumer proxy interviews (renters, homeowners)  |  18/75 Consumer surveys received/requested  |  3 Rounds of feedback from MMI (Mortgage Counselor)
b. What are your expectations? 
2.
Guided Tour:
 Feedback on scenarios
3.
Consumer Sentiment:
 Feels the comfort of a warm hug after interaction
​​​​​​​
E. Refined design from feedback and test again
We took the feedback from testing and synthesized using common UX methods to align on where we wanted to iterate from the mid-fidelity.
We retested to ensure the modifications resonated well with our proxies prior to the MVP release.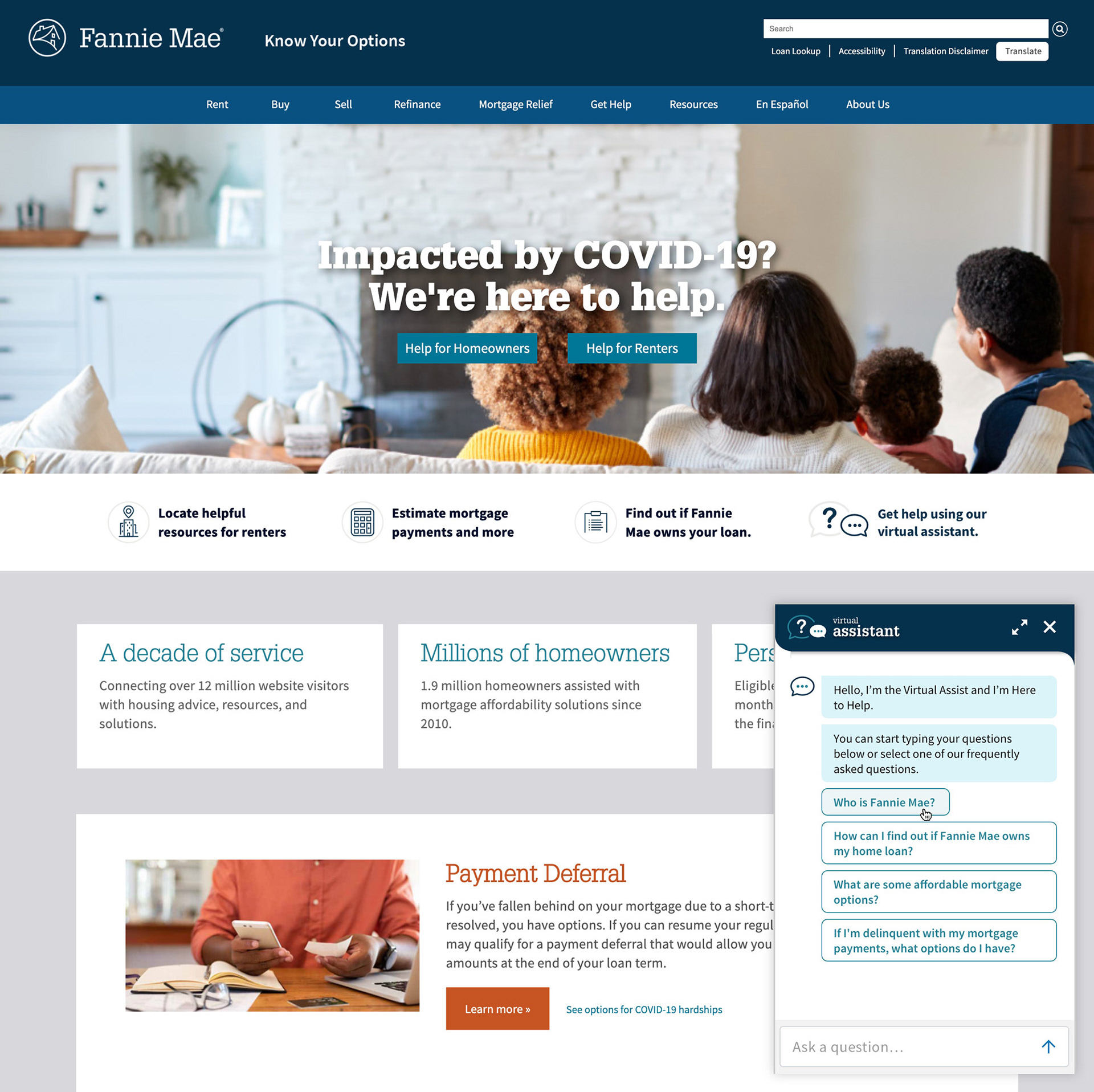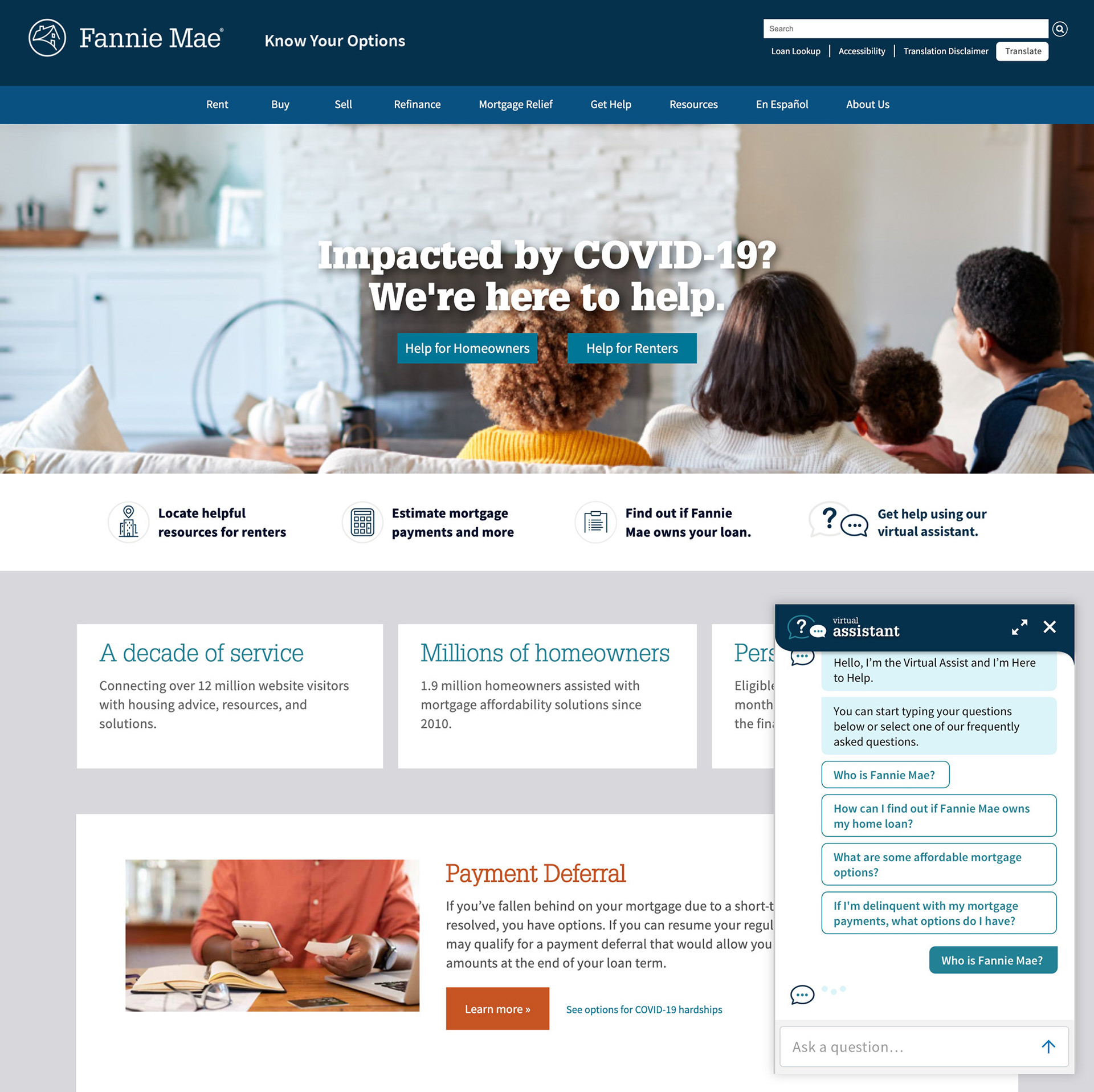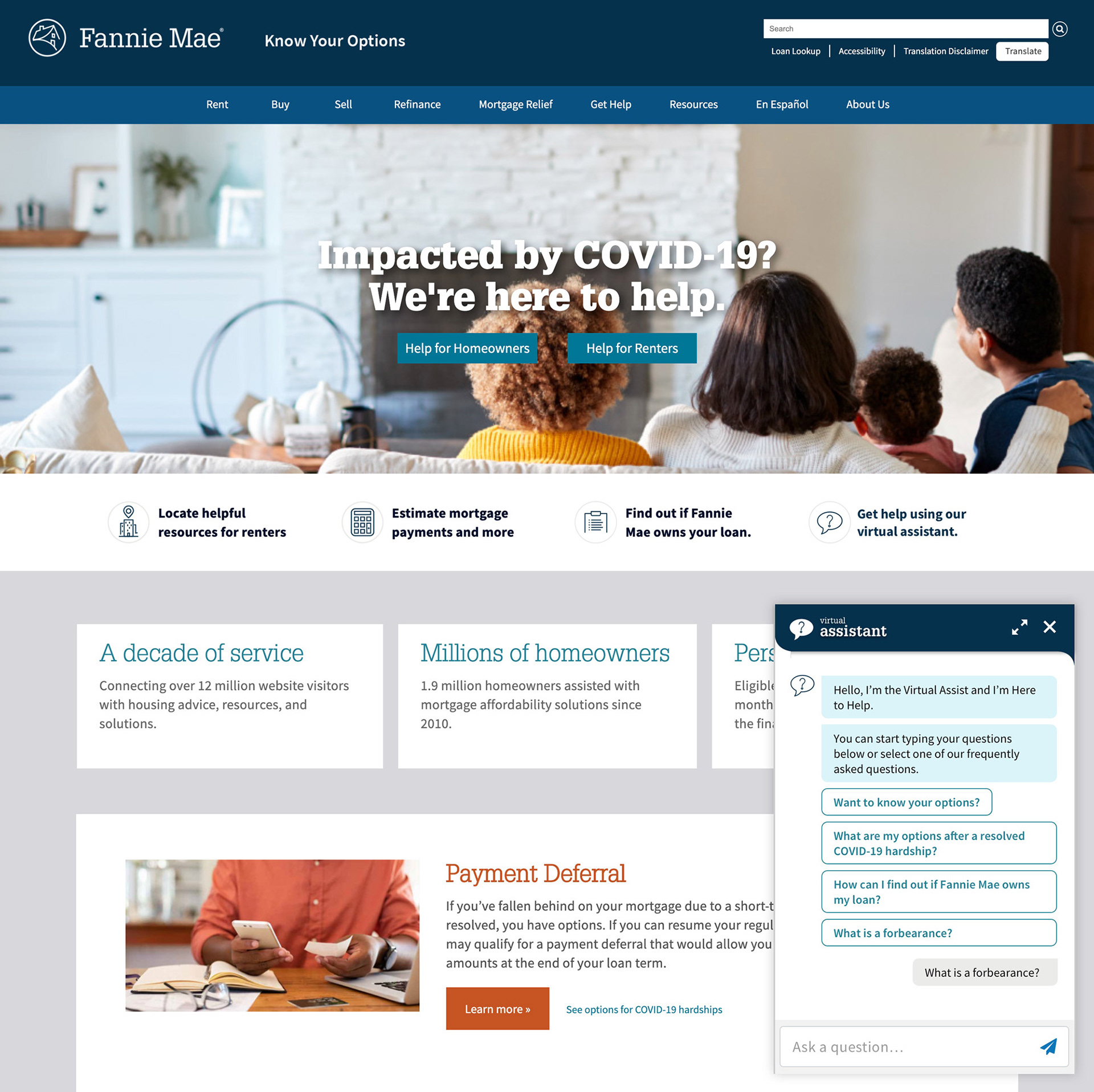 The above design iterations tested extremely well with users and allowed us enough information to release toward MVP. I worked with our Marketing and Brand team to ensure we aligned on brand—as there different rules for external facing products. Here I played a cross roll between UI/UX and Creative Direction to ensure a clean blend between functionality and design.
Actions Taken Based on Feedback:
1. Conducted a soft launch 
2. Made product revisions (including styling changes, conversation flows, and launch area message)
4. Influenced user behavior through content and digital imagery
5. Created interactive/educational videos, downloadable digital pamphlets and calls to action
A revised floating action icon and timed bubble message to help invoke the user when a guide is needed.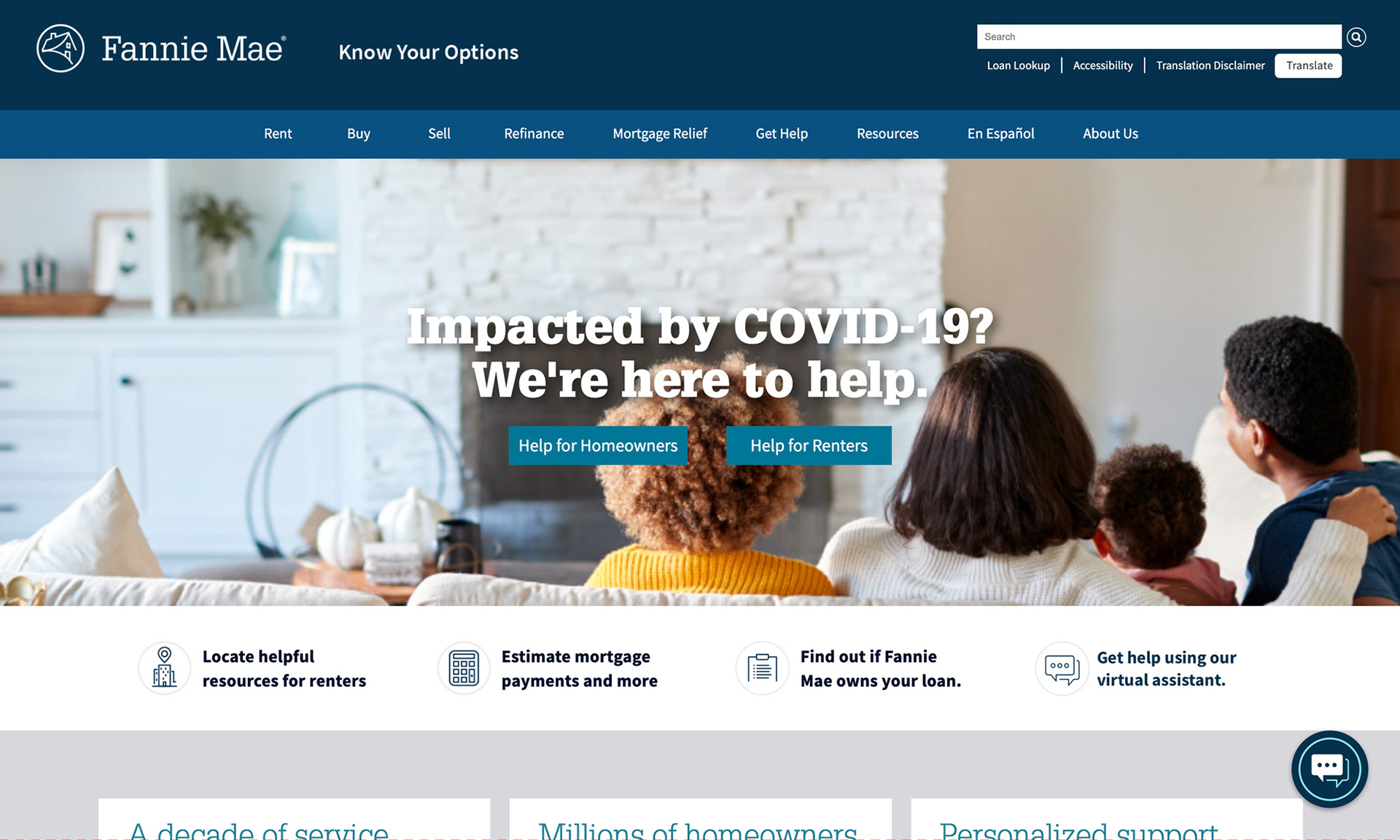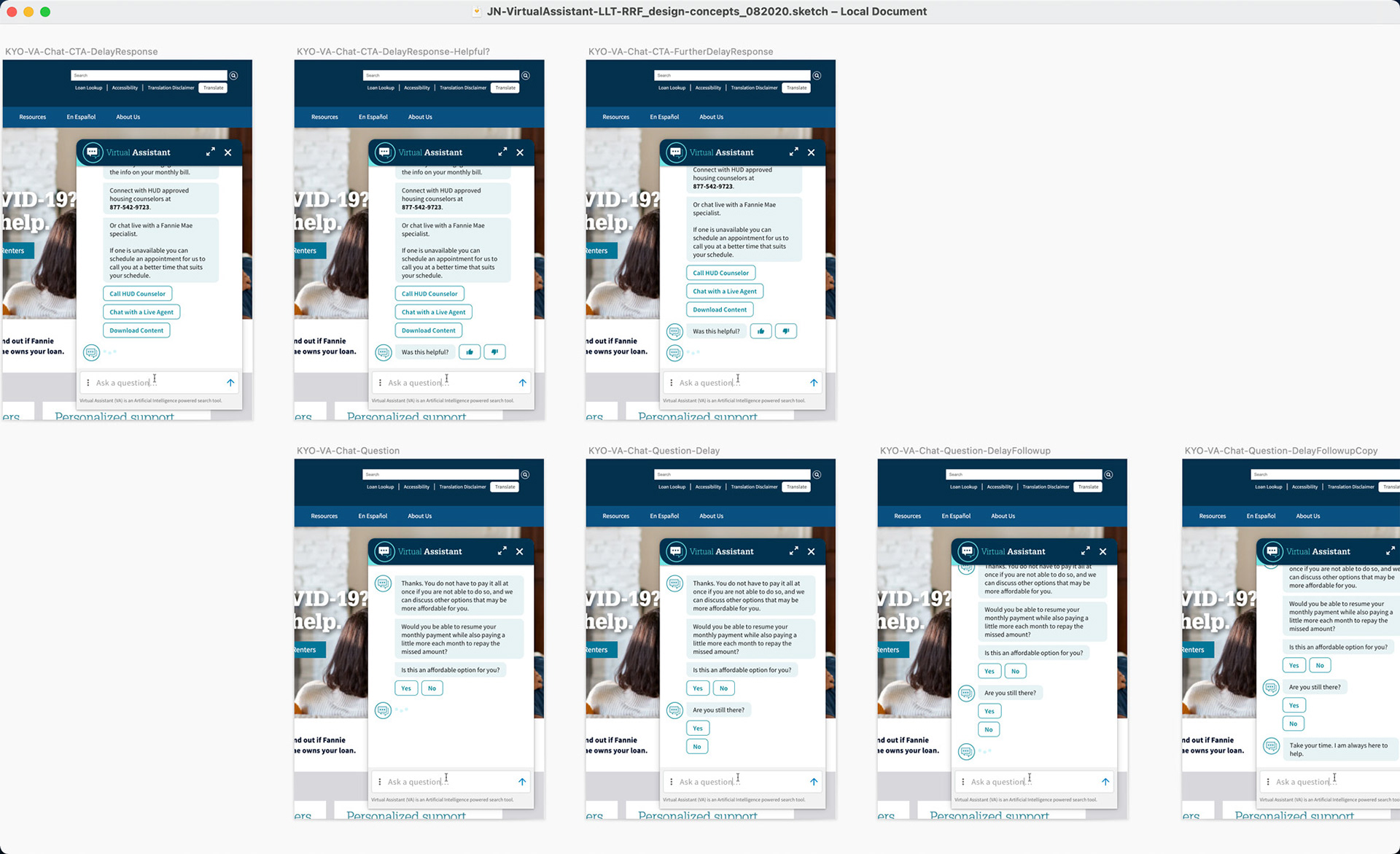 IV. METRICS  |  
HOW WELL IS THE PRODUCT PERFORMING?
Engagement and usage from visitors to the KYO website and chatbot are well beyond we was expected. The tool averages roughly 3.5K questions asked from users daily.
Housingwire chose to interview our VP of Innovation on the ways our tool is proactive in helping homeowners and renters solve their housing needs. Read the article here.